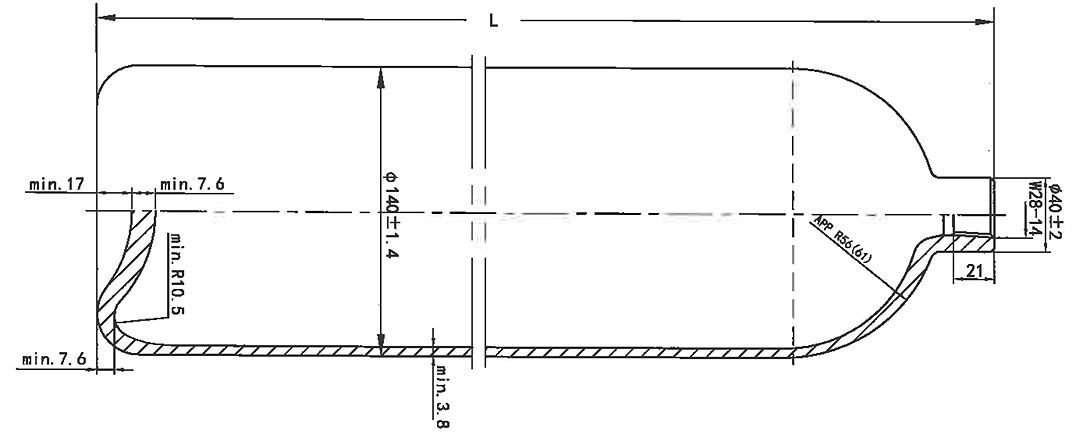 | | | | | | | | |
| --- | --- | --- | --- | --- | --- | --- | --- |
| Model | external diameter | volume | height | weight | MPa | Design wall thickness | Material Science |
| 3kg | 117 | 4.5 | 540 | 5.1 | 17.2 | | 34CrMo4 |
The products are applicable to portable CO fire extinguishers, trolley CO fire extinguishers and automatic gas fire extinguishers at home and abroad, such as carbon steel, light alloy steel fire extinguishers, high-pressure CO fire extinguishing system, HFC-227ea (heptafluoropropane) fire extinguishing system, IG541 (mixed gas) fire extinguishing system, trifluoromethane, hexafluoropropane and other gas fire extinguishing systems, marine CO2 and low-pressure CO2 fire extinguishing systems, small-volume nitrogen start-up cylinders and other fire-fighting products of various specifications and varieties.

The light Cr-Mo steel CO2 fire-fighting bottle produced by Chen Company has the characteristics of light weight, uniform wall thickness, high working pressure and high bulk density ratio. Advantages of Chen alloy steel cylinder:
1. adopting cold spinning bottle thinning technology
(1) The bottle tissue is denser and the fiber tissue distribution is more reasonable and orderly.
(2) The wall thickness is uniform, and the tolerance can reach 6% of the wall thickness of soil.
(3) The surface is smooth and the roughness value is less than 12.5μm m.
(4) The metallographic structure is better than that of the traditional craft bottle.

2. Adopt special hot spinning bottom closing process.
(1) The infrared temperature sensor is adopted to accurately control the furnace temperature of soil 8C.
(2) The auxiliary heating gas gun is controlled by servo motor to achieve the perfection of the fusion of the bottom of the bottle.
(3) The special forward spinning and reverse spinning process ensures the thickness of the bottom of the bottle and the center point, and at the same time increases the thickness of the bottom of the bottle.

3. Adopt special production and processing technology to make it better and more environmentally friendly.
(1) Compared with the traditional drawing process, the phosphating and saponification processes are reduced, and the product is more environmentally friendly.
(2) Special processing technology makes the internal and external quality of products have a qualitative leap, and all parameters meet or exceed the requirements of national standards.
(3) Special thinning process makes the product lighter and more portable.

4. Every product is a handicraft made by Huachen people. With the improvement of people's awareness of environmental protection and safety, more and more customers have chosen the light chromium molybdenum steel CO2 fire extinguisher. We will strictly comply with the requirements of national standards and make greater efforts to make this product better to meet customers' requirements, and make progress hand in hand!